I finally found some time on Tuesday to make my first Valentines themed bento for this year. I hope I've time to make at least another one before Valentine's Day is here. Meanwhile, if you need some inspiration for Valentine's Day bentos, you can check out all my past creations
HERE
.
"Sometimes the smallest things take up the most room in your heart." I probably have mentioned it a couple of times before, but this has been and still is my favourite quote from Pooh.
Pooh giving Piglet a hug for Valentines. Pooh was made from rice coloured using egg yolk, nori and crabstick. Piglet was made out of rice coloured with pink sushi mix, nori and ham. The side dishes were broccoli, spicy korean wings, tamgoyaki and strawberries.
This bento box which I'm using is from
Bento & Co
, the box comes in four stylish colours, I love all the colours, it was tough choosing just one. I brought this bento box back from my visit to Bento & Co in Kyoto last December. And yes, I did take some photos during my visit there to share with all of you. :)
Bento & Co is located in city centre of Kyoto, at a very convenient location, just next to shopping arcades, Teramachi and Shinkyogoku. Click
HERE
to go to their site for the details on how to get there. I'm super bad with directions, I just gave the address to my hubby and asked him to take me there. :P You can catch a glimpse of LT looking at me through the store, lol.
The shop is located in a 3 storey building, the first level is their retail store. This photo and another 3 more were taken off their site. I only brought my prime lens with me on this trip and the shop was very crowded, so I had some problems capturing a wider shot as I could not move back far enough. I've left out my watermark for those photos taken from their site.
This is another side of the shop, so many bento boxes I'm tempted to get, but I'm running out of space to keep them. :(
Kokeshi bentos, I love the new ones with cherry blossoms.
L sized Kokeshi bentos in Lolita outfit. I'm not a fan of Lolita fashion but these are kawaii!
This pink kitty bento is so sweet, never expected pink would go so well with black.
Ojyu bentos, the motifs are painted on and the box is of very good quality. In fact, all the bento boxes there are of good quality.
I've one of this and it comes with an ice pack built inside the lid, so you can just freeze the lid the night before, and the lid will keep your food cool the next day.
This stylish bento box is a collaboration between french designers from Mini Labo and Japanese manufacturer Gel Cool and comes with an ice pack built inside the lid as well.
black + blum sandwich on board, which you often see me use for my bentos.
Aluminium and steel bento boxes, I've got the Papyrus bento at the front in gold, sleek and easy to clean.
The shop also carries bento accessories, sorry for the cropped picture, there were customers browsing the racks, so I just took a closed up picture, lol.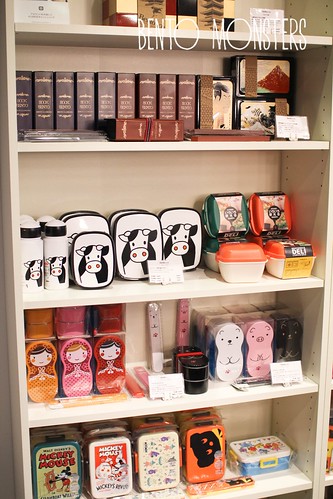 Book bentos on the top is one of my favourite, I've two and it's one of the bento box my boys often bring for school.
Spot the beautiful furoshiki, the store carries quite a range.
I love to collect furoshiki, lol.
I got the tamagoyaki pan on the top right, best tamagoyaki pan I've ever used, I think everyone can make a perfect tamagoyaki with this pan. It's available on their online site if you are interested.
They also have a collection of magewappa bento boxes, most of those that you see on my blog were from there.
Filt L'Authetique string bags from France, these are the most chic bento bags I've seen. I regret not getting one, I love the one in blue, hiaz. That's all for the first storey.
The second storey is their warehouse and also the area where they process and pack out the orders from their online store. They were very busy with the Christmas order when I was there. It's not that obvious from this photo.
But you can see all that the place was packed with cartons in this photo.
Finally, the third level is Thomas's office, his office is spacious yet cosy, nice place to work in. I'm sure most of you are familiar with Thomas. For those of you who might not know, Thomas is the owner of Bento & Co. I would like to thank him for taking off time from his busy schedule to show me around his shop. :)
Do drop by Bento & Co for some bento therapy if you go to Kyoto, or you can always shop at their online store
HERE
, they offer free shipping with a minimum amount spent.