I've made many sushi creations to date, but I think this set of Tsum Tsum sushi that I'm sharing today is my favourite by far. I had this idea for awhile and I'm happy they turned out the way I visualized. I will be sharing some photos on how I made these sushi, I hope that they will be useful if you intend to make some of your own. :)
The shapes of the Tsum Tsum characters are just perfect for making into sushi. For this set, I chose Donald, Pooh, Mike Wazowski and Olaf.
Mike is a tamago sushi, Olaf is shrimp sushi, Donald is salmon sushi, and lastly, Pooh is Ikura sushi.
I love them all but Pooh is my favourite out of the lot.
This was actually the first set that I made, there's two more characters here, Piglet and Pluto.
My boys love sushi and sashimi, but I think what they really like is that they get to dip them in soy sauce, lol.
If you are using raw ingredients for your sushi, it's safer to shape your characters in advance and place the ingredients on just before serving.
Want to try your hands at making these sushi? I'm will be sharing how I made Pooh and Donald sushi.
I'll start off with Donald. Since this is for sushi, I mixed some sushi vinegar to the rice before shaping it with cling wrap.
I used two different size oval cutters to cut out the bill and cheeks. I used egg for the bill and the pink part of kamboko(Japanese fishcake) for the cheeks. You can also use different size straws and pinch it to an oval to cut. For the bow, I cut out two heart shapes from tomatoes, using a pair of scissors.
I used a paw craft punch to cut out oval for the eyes from seaweed. I used a pair of scissors to cut out the bow for the hat from seaweed.
Place a slice of salmon on top of Donald.
For Pooh, add some mashed egg yolk to sushi vinegar rice to colour it yellow. Using cling wrap, mould out the rice, I moulded the back half of the sushi lower so that I can place the ikura on that part.
Cut out a strip of nori and wrap it around the rice.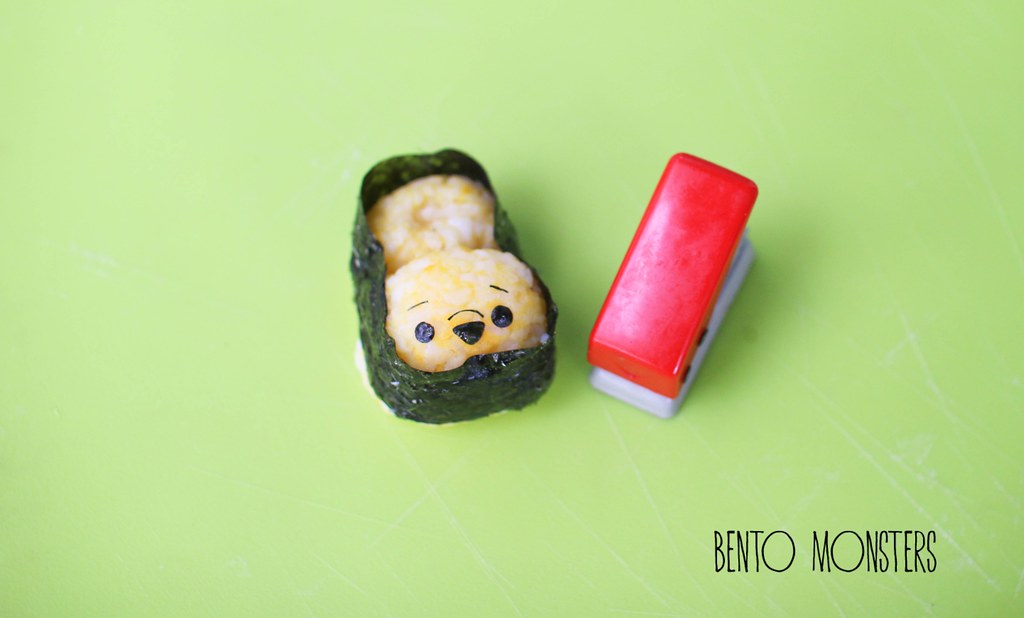 I used a hole punch to cut out nori for Pooh's eyes. The other details were cut out using a pair of scissors.
Usng cling wrap, mould out Pooh's ears from rice and attached them on using pasta sticks.
Add on ikura(salmon roe) before serving these Pooh sushi.