More Gudetama food art to share in this post, he's one of my favourite characters to craft, because he is so easy to make. I don't have anymore Gudetama creations in my archive after this post, but I'm quite sure it won't be too long before make him again, lol.
First up, I've Gudetama tamago sushi and Gudetama pudding.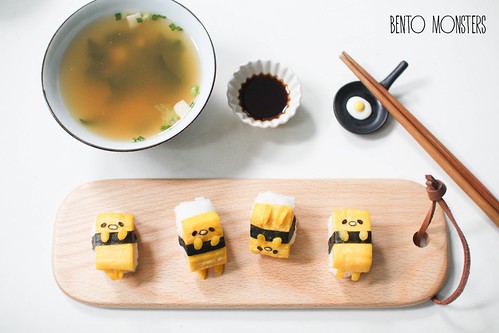 These sushi were made with just tamago and nori. My boys love sushi and sashimi, because they get to dip them in soy sauce, lol. -_-
Gudetama milk pudding with peach, I used melted chocolate to draw in the features for Gudetama.
Gudetama egg sandwich, which I made for my brunch just this Monday.
You can refer to my post
here
on how to make Gudetama. The difference is this time I used mashed potatoes mixed with egg yolk, instead of mashed pumpkin. And the egg was placed on bread, instead of rice.
I was taking pictures of my brunch, when LT came running over and said he wanted to be my hand model, which means he wants his hands to be in the photo. I usually make my food art in the afternoon when he's at school, so he's a little upset it's always IT's hands in the photos, lol.
And here's an uncropped photo I had to share because I found it cute, just look at LT's tummy, and he's still hugging onto his bolster, lol. Shhh...... don't tell him I shared this photo, or he'll tell me to remove it.