Hello there, if you are dropping by for the first time. :) I'm very thankful to
Mail Online
for the article about my bento on Wednesday, which lead to many other sites reporting about my bentos. I have actually been busy the past few days, going about my usual stay-at-home-mom chores. I've not had a chance to sort out my thoughts, so when the reporter asked how I felt, I could only say I'm happy. Now that my thoughts are better organised, I just want to say a big thank you to all the sites that reported about my bentos, I really appreciate it. :)
Now, onto these doggy sausage bread buns I'm sharing today, made them back in July. I think you might be quite familiar with this doggy bread bun design, as I've seen them being shared online before. I can't take credit for this wonderful idea, I got this idea from Pitachan on Cookpad. She has lots of cutie bread design, I've always wanted to try many of them but yet to find time to do so.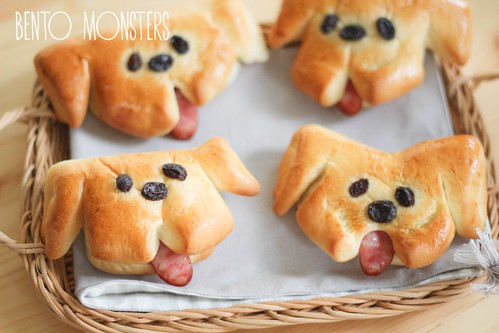 I did not use her recipe for the bread buns. I've included my recipe and also the steps on how to shape this doggy below. :)
DOGGY SAUSAGE BREAD BUN RECIPE

Ingredients:
Bread Flour 400g
Instant Yeast 5g
Cold water 220ml
Egg 30g
Sugar 40g
Butter, room temperature 70g
Salt 6g
Sausages
Raisins
Method:
Mix all the ingredients, except butter, in a large bowl to get a dough. Add in butter and knead until dough is springy and soft, this takes around 10 minutes. If you have a bread maker, you can just use the dough function for this step, as well as step 2.
Cover the dough with cling wrap and keep in a warm place for it to rise. This takes around an hour and the dough should double in size. Do a finger test to check if it's ready.
While the dough is rising, soak raisins in water so that they will soften and expand. Dry them on a paper towel and set aside. These will be for the doggy's eyes and nose.
Slice sausages and set aside.
Dust your work table with some flour, place dough on it. Punch out the air from the dough with your fist.
Divide the dough into 60g portions. Roll them out and form them into balls. Cover with cling wrap and let the dough rest for 15 minutes.
Roll out bread dough using a rolling pin.
Place a sliced sausage on one end, and make a small cut on the other end.
Fold the dough in half.
Make slanting cuts for the ears.
Place on parchment paper, cover with cling wrap and let it rise for 40 minutes.

At the end of 40 minutes, place the raisins onto the bread dough and press gently.
Brush with egg wash and bake at 180 degrees celcius for around 20 minutes or till they turn golden brown.